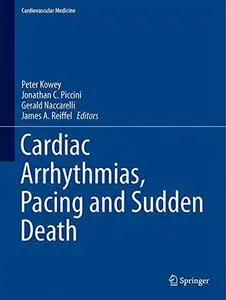 Cardiac Arrhythmias, Pacing and Sudden Death (Cardiovascular Medicine) by Peter Kowey, Jonathan P. Piccini, Gerald Naccarelli, James A. Reiffel
2017 | ISBN: 3319579983 | English | 306 pages | PDF | 22 MB
This book provides up-to-date, user-friendly and comprehensive guidance on the evaluation, diagnosis, and medical and surgical treatment of cardiac arrhythmias. This ensures that that this title aids every trainee and practicising cardiologist, cardiac electrophysiologist, cardiac surgeon, vascular surgeon, diabetologist, cardiac radiologist and any physician who manages cardiac patients.
Cardiovascular Medicine: Cardiac Arrhythmias, Pacing and Sudden Death covers every aspect of cardiac arrhythmias, from cardiac signs and symptoms through imaging and the genetic basis for disease to surgery, interventions, treatment and preventive cardiology. This coverage is presented with consistent chapter organization, clear design, and engaging text that includes user-friendly features such as tables, lists and treatment boxes.