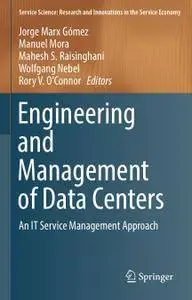 Engineering and Management of Data Centers: An IT Service Management Approach By Jorge Marx Gómez
English | PDF,EPUB | 2017 | 290 Pages | ISBN : 3319650815 | 14.56 MB
This edited volume covers essential and recent development in the engineering and management of data centers. Data centers are complex systems requiring ongoing support, and their high value for keeping business continuity operations is crucial.
The book presents core topics on the planning, design, implementation, operation and control, and sustainability of a data center from a didactical and practitioner viewpoint. Chapters include:
· Foundations of data centers: Key Concepts and Taxonomies
· ITSDM: A Methodology for IT Services Design
· Managing Risks on Data Centers through Dashboards
· Risk Analysis in Data Center Disaster Recovery Plans
· Best practices in Data Center Management Case: KIO Networks
· QoS in NaaS (Network as a Service) using Software Defined Networking
· Optimization of Data Center Fault-Tolerance Design
· Energetic Data Centre Design Considering Energy Efficiency Improvements During Operation
· Demand-side Flexibility and Supply-side Management: The Use Case of Data Centers and Energy Utilities
· DevOps: Foundations and its Utilization in Data Centers
· Sustainable and Resilient Network Infrastructure Design for Cloud Data Centres
· Application Software in Cloud-Ready Data Centers
This book bridges the gap between academia and the industry, offering essential reading for practitioners in data centers, researchers in the area, and faculty teaching related courses on data centers. The book can be used as a complementary text for traditional courses on Computer Networks, as well as innovative courses on IT Architecture, IT Service Management, IT Operations, and Data Centers.
Please If You Want To Support Me Kindly Purchase Premium From Any Of My Download Links
Thanks For Supporting Me And Purchasing Premium From My Links