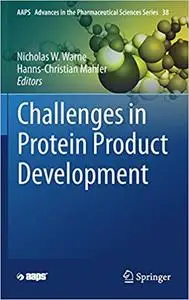 Nicholas W. Warne, "Challenges in Protein Product Development "
English | ISBN: 3319906011 | 2018 | 599 pages | EPUB, PDF | 22 MB + 11 MB
In this volume, the authors discuss the many significant challenges currently faced in biotechnology dosage form development, providing guidance, shared experience and thoughtful reflection on how best to address these potential concerns. As the field of therapeutic recombinant therapeutic proteins enters its fourth decade and the market for biopharmaceuticals becomes increasingly competitive, companies are increasingly dedicating resources to develop innovative biopharmaceuticals to address unmet medical needs. Often, the pharmaceutical development scientist is encountering challenging pharmaceutical properties of a given protein or by the demands placed on the product by stability, manufacturing and preclinical or clinical expectations, as well as the evolving regulatory expectations and landscape. Further, there have been new findings that require close assessment, as for example those related to excipient quality, processing, viscosity and device compatibility and administration, solubility and opalescence and container-closure selection. The literature varies widely in its discussion of these critical elements and consensus does not exist. This topic is receiving a great deal of attention within the biotechnology industry as well as with academic researchers and regulatory agencies globally. Therefore, this book is of interest for business leaders, researchers, formulation and process development scientists, analytical scientists, QA and QC officers, regulatory staff, manufacturing leaders and regulators active in the pharmaceutical and biotech industry, and expert reviewers in regulatory agencies.