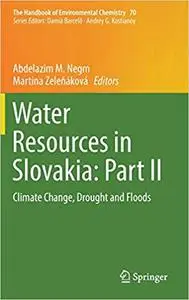 Abdelazim M. Negm, Martina Zeleňáková, "Water Resources in Slovakia: Part II: Climate Change, Drought and Floods"
English | 2018 | pages: 338 | ISBN: 3319928643 | PDF | 16,2 mb
This book offers up-to-date information on the impact of climate change on water resources in Slovakia, the occurrence of drought and floods, hazards and protection methods. The topics covered include hydrological extremes, such as droughts and flood, in Slovakia; risk assessment and protection; sustainable management; and water management in buildings. The closing chapter provides general conclusions and recommendations for future research. It appeals to graduate students and researchers as well as to decision makers involved in planning future water resources in Slovakia.
My Link