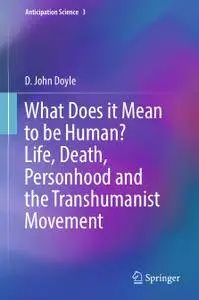 What Does it Mean to be Human? Life, Death, Personhood and the Transhumanist Movement By D. John Doyle
English | PDF,EPUB | 2018 | 225 Pages | ISBN : 3319949497 | 5.48 MB
This book is a critical examination of the philosophical and moral issues in relation to human enhancement and the various related medical developments that are now rapidly moving from the laboratory into the clinical realm. In the book, the author critically examines technologies such as genetic engineering, neural implants, pharmacologic enhancement, and cryonic suspension from transhumanist and bioconservative positions, focusing primarily on moral issues and what it means to be a human in a setting where technological interventions sometimes impact strongly on our humanity.
The author also introduces the notion that death is a process rather than an event, as well as identifies philosophical and clinical limitations in the contemporary determination of brain death as a precursor to organ procurement for transplantation. The discussion on what exactly it means to be dead is later applied to explore philosophical and clinical issues germane to the cryonics movement.
Written by a physician/ scientist and heavily referenced to the peer-reviewed medical and scientific literature, the book is aimed at advanced students and academics but should be readable by any intelligent reader willing to carry out some side-reading. No prior knowledge of moral philosophy is assumed, as the various key approaches to moral philosophy are outlined early in the book.
Without You And Your

Support

We Can't Continue
Thanks For Buying Premium From My Links For

Support