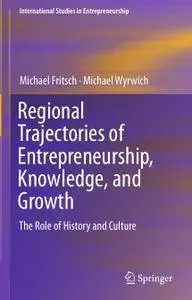 Regional Trajectories of Entrepreneurship, Knowledge, and Growth: The Role of History and Culture by Michael Fritsch
English | PDF,EPUB | 2018 (2019 Edition) | 152 Pages | ISBN : 3319977814 | 11.12 MB
This book offers a dynamic perspective on regional entrepreneurship, knowledge, innovation and economic growth, with a particular focus on the role that history and culture play. The authors provide comprehensive empirical analyses offering unique insights into the spatial patterns of long-term differences of regional self-employment, new business formation, cultures of entrepreneurship, innovation activities, and development. Policy implications from the analyses and a discussion of important avenues for future research complete this unique book combining history, culture, and entrepreneurship.
This is a superb book with an original, historical take on entrepreneurship and regional development. It is a landmark study on Germany showing that regional levels of entrepreneurship are persistent and resilient, despite many disruptive shocks.
Ron Boschma, Utrecht University, The Netherlands, and Stavanger University, Norway
This book presents the distilled wisdom of two leading authorities on the link between entrepreneurship and economic prosperity at a regional level. Although its prime empirical focus is on Germany there are clear lessons for scholars and policy-makers in all high-income countries.
David J Storey, University of Sussex, UK
My Friends You Will Not

Lose

Anything If You Purchased Your Premium From My Link
When You Buy Premium From My Links You

Supporting

Me And Letting Me To Keep Post What You Want, Thanks For Buying Premium From My Links