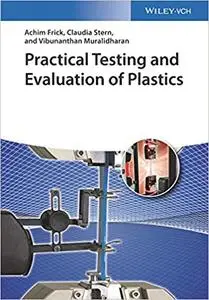 Achim Frick, "Practical Testing and Evaluation of Plastics"
English | ISBN: 3527334114 | 2019 | 240 pages | PDF | 12 MB
Filling a need, this ready reference brings together the hard-to-get and recently acquired knowledge usually only found scattered in the original literature. Following an introduction to plastics as a class of engineering materials and an overview of their properties, the book comprehensively covers the characterization and quality control of manufactured plastic components, including an exhaustive treatment of the possible flaws of plastics inadvertently introduced during manufacturing along with viable solutions to prevent these faults. The second part is concerned with the testing of the resulting end products by various physical and chemical methods on the nano-, meso- and macroscale. An appendix with thermoanalytic data and international standards for the most commonly used polymers in plastics engineering rounds off the text. Written by experienced academics and industrial researchers and developers who intimately know the problems faced by plastics engineers in their daily work - as well as the solutions - this book provides first-hand practical knowledge and in-depth discussions for industrial chemists and materials scientists alike.