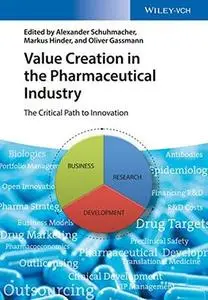 Value Creation in the Pharmaceutical Industry: The Critical Path to Innovation by Alexander Schuhmacher, Markus Hinder, Oliver Gassmann
English | 2016 | ISBN: 3527339132 | 508 pages | PDF | 6 MB
This practical guide for advanced students and decision-makers in the pharma and biotech industry presents key success factors in R&D along with value creators in pharmaceutical innovation.
A team of editors and authors with extensive experience in academia and industry and at some of the most prestigious business schools in Europe discusses in detail the innovation process in pharma as well as common and new research and innovation strategies. In doing so, they cover collaboration and partnerships, open innovation, biopharmaceuticals, translational medicine, good manufacturing practice, regulatory affairs, and portfolio management. Each chapter covers controversial aspects of recent developments in the pharmaceutical industry, with the aim of stimulating productive debates on the most effective and efficient innovation processes.
A must-have for young professionals and MBA students preparing to enter R&D in pharma or biotech as well as for students on a combined BA/biomedical and natural sciences program.
My nickname -
interes