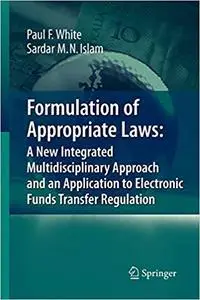 Paul White, Sardar M. N. Islam, "Formulation of Appropriate Laws: A New Integrated Multidisciplinary Approach and an Application to Electronic Funds Transfer Regulation"
English | 2008 | ISBN: 3540720464 | PDF | pages: 189 | 6.4 mb
Efficient laws have profound positive social, economic, political and welfare effects. This book develops a new approach to the formulation of efficient laws with an illustrative application to electronic fund transfer regulation in Australia. This approach can be applied to formulate efficient laws, irrespective of social, political and economic organizations of the country under study, which maximize social welfare of the country.