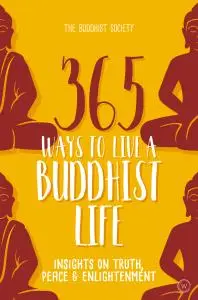 365 Ways to Live a Buddhist Life: Insights on Truth, Peace and Enlightenment by Society, The Buddhist
English | June 9th, 2020 | ISBN: 1786783223 | 216 pages | EPUB | 15.28 MB
A beautiful collection of quotations, insights and short tales which form an attractive introduction to Buddhism in all its richness and variety. Great for the newcomer and a multifaceted pick-me-up for the more experienced practitioner.
Buddhism has influenced Western thinking like no other Eastern religion. Even people who have no interest in adopting it wholeheartedly acknowledge the wisdom of its philosophical insights. 365 Ways to Live a Buddhist Life covers basic themes of universal relevance such as: the beauty of nature, good and bad karma, the importance of empathy, how to deal with stress and anxiety, how to meditate successfully, how to be happy, and the joy to be found in service to others. Alongside these "pearls" of practical advice there are "lanterns": lucid explanations of key Buddhist concepts that illuminate Buddhist belief and practice, and enlightening accounts of key moments, such as the Buddha's sermon in the Deer Park. The book itself is compact, attractive and beautifully illustrated.
Full of accessible Eastern wisdom, this book will help you to find the road to inner peace and happiness.
Enjoy
My Blog.
No any convert or low quality!