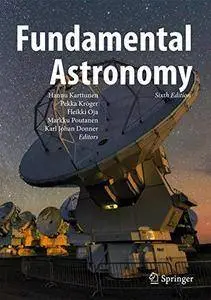 Karttunen, H., Kröger, P., Oja, H., Poutanen, M., Donner, K.J., "Fundamental Astronomy, Sixth Edition"
English | 2016 | ISBN-10: 3662530449 | 550 pages | pdf | 25 MB
The established, widely-adopted textbook for physical science majors that gives a comprehensive, calculus-based introduction to the topics of classical and modern astronomy and astrophysics
Richly illustrated with more than 400 images, including 36 color plates, that take you on a visual tour of the cosmos
Fifth edition offers substantial new material on extragalactic astronomy, cosmology, and extra-solar planets, as well as updates throughout that are a real step up from the previous edition
Comprehensive approach provides a sound basis for more profound studies in the astronomical sciences
About this Textbook
Now in its sixth edition this successful undergraduate textbook gives a well-balanced and comprehensive introduction to the topics of classical and modern astronomy. While emphasizing both the astronomical concepts and the underlying physical principles, the text provides a sound basis for more profound studies in the astronomical sciences.
The chapters on galactic and extragalactic astronomy as well as cosmology were extensively modernized in the previous edition. In this new edition they have been further revised to include more recent results. The long chapter on the solar system has been split into two parts: the first one deals with the general properties, and the other one describes individual objects. A new chapter on exoplanets has been added to the end of the book next to the chapter on astrobiology.
In response to the fact that astronomy has evolved enormously over the last few years, only a few chapters of this book have been left unmodified.