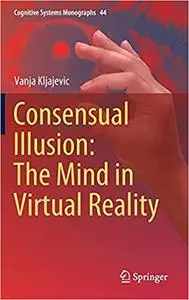 Consensual Illusion: The Mind in Virtual Reality
English | 2021 | ISBN: 3662637405 | 145 Pages | PDF EPUB | 5 MB
This book is inspired by the contemporary fascination with virtual reality and growing presence of this type of technology in everyday life. It explores the ways in which virtual reality evokes illusory transformation responses. The power of virtual reality is in making the mediation by technology in these experiences appear irrelevant to cognitive processes, so much so that it is often assumed that skills acquired in virtual environments are generally transferable to the physical world. However, cognition is affected by virtual reality technology, which is reflected in issues related to virtual embodiment, choice of spatial strategies, differences in neural and electrophysiological patterns associated with movement processing when navigating virtual vs. physical environments, and, at least to some extent, in virtual proxemics. In addition to spatial cognition, the book explores the sense of self in virtual reality, social interaction and virtual togetherness, action and motor cognition, calling to mind debates from philosophy, psychology, and cognitive neuroscience.