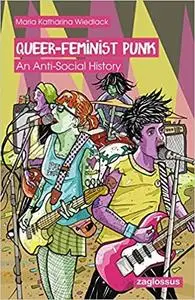 Maria Katharina Wiedlack, "Queer-Feminist Punk: An Anti-Social History"
English | 2015 | ISBN: 3902902272 | 432 pages | MOBI | 8.4 MB
This history makes use of anti-social theory to take a broad and multifaceted look at queer-feminist punk—from its origins in the 1980s to its contemporary influences on the Occupy movement and Pussy Riot activism.
This book presents a map and analysis of queer-feminist punk histories that are located in the US and Canada. It offers a very detailed description of people, bands, events, and their politics. Although the collection and analysis are definitely a good read for punk knowledge showoffs or anyone looking for inspiration to update hir personal countercultural collection, they are by no means exhaustive. This work is limited by my "outsider" status as a white European academic, as well as by my education and personal interests, and therefore should not be understood as universal or true for everyone. Hopefully, however, the book will appeal to queer-feminist punk "nerds," academics and activists alike. It offers many insights into alternative strategies for queer-feminist political activism, and hints at alternative opportunities to regroup and bond, experience pleasure and fight against oppressive structures. In addition, chapter three in particular provides a good read for all academic dissidents who gain pleasure from losing themselves in hardcore psychoanalytic theory. Chapter three is not a must-read to understand the analysis of the queerfeminist punk material and of the social bonds created around and through queer-feminist punk. However, I encourage readers to follow me on my adventure through "the evil ways" of queer theory. There might not be a bright future awaiting the traveler at (death) the end of the journey, but there could be something unexpected or important in store.