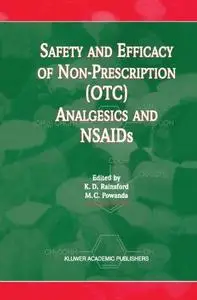 Safety and Efficacy of Non-Prescription (OTC) Analgesics and NSAIDs: Proceedings of the International Conference held at The South San Francisco Conference Center, San Francisco, CA, USA on Monday 17th March 1997 By L. F. Prescott (auth.), K. D. Rainsford, M. C. Powanda (eds.)
1998 | 150 Pages | ISBN: 9401060444 | PDF | 5 MB
The availability of analgesics and non-steroidal anti-inflammatory drugs (NSAIDs) sold over-the-counter (OTC) to the public without prescription has become an issue of major concern in recent years. The problem has been highlighted in the UK, USA and other countries because of the continuing high rates of cases of poisoning and the influence of switching from prescription-only status for many NSAIDs to OTC sale brought about, in a large part, by governments and health maintenance organisations (especially in the USA) anxious to save on costs of these drugs. Concern in the UK about poisoning from paracetamol and the appreciable morbidity and mortality from aspirin was such that a major review was initiated in 1996 by the UK government's Medicines Control Agency (MCA). Doubtless, many other governments have also undertaken reviews of the safety issues concerning OTC analgesics and NSAIDs. In the UK the situation has culminated in the decision announced in August 1997, as this book was going to press, that the number of tablets/capsules of the solid dosage forms of paracetamol and aspirin would be limited for sale OTe. This decision was essentially based on the need to limit the unit quantity of these drugs so as to reduce the likelihood of poisoning with paracetamol and the development of gastrointestinal and other more serious side-effects from aspirin. Time. will tell whether these new regulations will influence the occurrence of these adverse events.