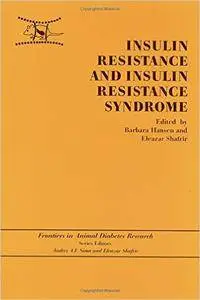 Insulin Resistance and Insulin Resistance Syndrome (Frontiers in Animal Diabetes Research) by Barbara Hansen
English | Aug. 29, 2002 | ISBN: 0415291976, 0203273184 | 385 Pages | PDF | 3 MB
Type II diabetes has developed into a global epidemic, with nearly 20 type II patients for every type I individual. Preceding the onset of type II diabetes is a prolonged episode of insulin resistance featuring a host of detrimental symptoms. This period comprises a disease referred to as Insulin Resistance Syndrome or Metabolic Syndrome.
Insulin Resistance and Insulin Resistance Syndrome deals with the cellular and whole body pathogenic mechanisms and phenotypic expressions in various models of insulin resistance. Leaders in the field provide their perspectives on the mechanisms of insulin resistance, as observed in various animal models. While the exact mechanism underlying resistance to insulin is unknown, the authors review many of the significant factors. A series of chapters on Metabolic Syndrome discusses its possible insulin resistance-associated pathophysiology with obesity, cardiovascular disease, hypertension, glucose intolerance, and abnormalities in whole body metabolism.
Presenting essential knowledge in the field of insulin resistance, this book will benefit clinicians, pharmaceutical scientists, and researchers involved in endocrinology, biochemistry and metabolism in diabetes.