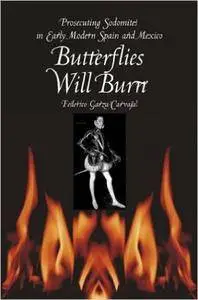 Butterflies Will Burn: Prosecuting Sodomites in Early Modern Spain and Mexico by Federico Garza Carvajal
English | Dec. 1, 2003 | ISBN: 0292702213, 0292701837 | 333 Pages | PDF | 13 MB
As Spain consolidated its Empire in the sixteenth and seventeenth centuries, discourses about the perfect Spanish man or "Vir" went hand-in-hand with discourses about another kind of man, one who engaged in the "abominable crime and sin against nature"—sodomy. In both Spain and Mexico, sodomy came to rank second only to heresy as a cause for prosecution, and hundreds of sodomites were tortured, garroted, or burned alive for violating Spanish ideals of manliness. Yet in reality, as Federico Garza Carvajal argues in this groundbreaking book, the prosecution of sodomites had little to do with issues of gender and was much more a concomitant of empire building and the need to justify political and economic domination of subject peoples.
Drawing on previously unpublished records of some three hundred sodomy trials conducted in Spain and Mexico between 1561 and 1699, Garza Carvajal examines the sodomy discourses that emerged in Andalucía, seat of Spain's colonial apparatus, and in the viceroyalty of New Spain (Mexico), its first and largest American colony. From these discourses, he convincingly demonstrates that the concept of sodomy (more than the actual practice) was crucial to the Iberian colonizing program. Because sodomy opposed the ideal of "Vir" and the Spanish nationhood with which it was intimately associated, the prosecution of sodomy justified Spain's domination of foreigners (many of whom were represented as sodomites) in the peninsula and of "Indios" in Mexico, a totally subject people depicted as effeminate and prone to sodomitical acts, cannibalism, and inebriation.