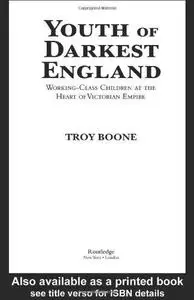 Youth of Darkest England: Working-Class Children at the Heart of Victorian Empire (Children's Literature and Culture) By Troy Boone
2004 | 256 Pages | ISBN: 0415972620 | PDF | 3 MB
Youth of Darkest England examines the representation of English working-class children, the youthful inhabitants of the poor urban neighbourhoods that a number of writers dubbed "darkest England", in Victorian and Edwardian imperialist literature. In particular, the book focuses on how the writings for and about youth undertook an ideological project to enlist working class children into the British imperial enterprise. Lucidly written and thoroughly researched, this book will make a major contribution to our understanding of youth culture and children's literature in the nineteenth century.