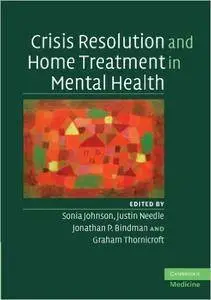 Crisis Resolution and Home Treatment in Mental Health by Sonia Johnson
English | Aug. 11, 2008 | ISBN: 0521678757 | 354 Pages | PDF | 2 MB
Crisis resolution and home treatment teams offer rapid response in psychiatric crises and offer an alternative to hospital admission. These crisis assessment and treatment groups are an increasingly important component of mental health care and are now adopted into the service provision strategies of most developed healthcare systems. This book describes the evidence to support the establishment of such a service, the principles involved, how to set up and organise these teams, how patients should be assessed for intensive home treatment and what types of care the teams should offer. This volume is essential reading for mental health workers, service planners and policy maker seeking to establish and operate a crisis resolution and home treatment service. No other book provides such a comprehensive account combining the theoretical underpinnings with the practical guidance on how to establish teams and work with patients. Case studies are included to illustrate the key points.