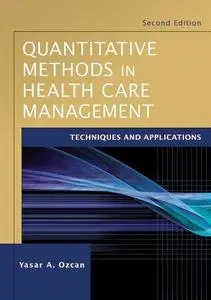 Quantitative Methods in Health Care Management: Techniques and Applications By Yasar A. Ozcan PhD
2009 | 467 Pages | ISBN: 0470434627 | PDF | 8 MB
Thoroughly revised and updated for Excel®, this second edition of Quantitative Methods in Health Care Management offers a comprehensive introduction to quantitative methods and techniques for the student or new administrator. Its broad range of practical methods and analysis spans operational, tactical, and strategic decisions. Users will find techniques for forecasting, decision-making, facility location, facility layout, reengineering, staffing, scheduling, productivity, resource allocation, supply chain and inventory management, quality control, project management, queuing models for capacity, and simulation. The book's step-by-step approach, use of Excel, and downloadable Excel templates make the text highly practical. Praise for the Second Edition ''The second edition of Dr. Ozcan's textbook is comprehensive and well-written with useful illustrative examples that give students and health care professionals a perfect toolkit for quantitative decision making in health care on the road for the twenty-first century. The text helps to explain the complex health care management problems and offer support for decision makers in this field.'' —Marion Rauner, associate professor, School of Business, Economics, and Statistics, University of Vienna. ''Quantitative Methods in Health Care Administration, Second Edition covers a broad set of necessary and important topics. It is a valuable text that is easy to teach and learn from.'' —David Belson, professor, Department of Industrial Engineering, Viterbi School of Engineering, University of Southern California.