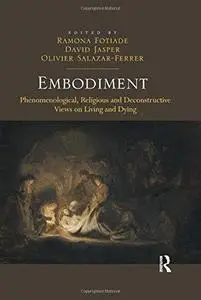 Embodiment: Phenomenological, Religious and Deconstructive Views on Living and Dying By Ramona Fotiade; David Jasper; Olivier Salazar-Ferrer ; (eds.)
2014 | 246 Pages | ISBN: 1472410521 | PDF | 2 MB
This book examines a number of landmark shifts in our account of the relationship between human and divine existence, as reflected through the perception of time and corporeal experience. Drawing together some of the best scholars in the field, this book provides a representative cross-section of influential trends in the philosophy of religion (e.g. phenomenology, existential thought, Biblical hermeneutics, deconstruction) that have shaped our understanding of the body in its profane and sacred dimensions as site of conflicting discourses on presence and absence, subjectivity and the death of the subject, mortality, resurrection and eternal life.