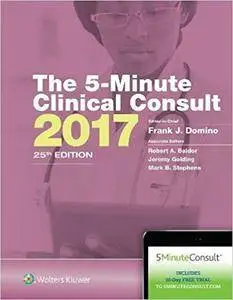 The 5-Minute Clinical Consult 2017 (The 5-Minute Consult Series) by Dr. Frank J. Domino MD
English | May 25, 2016 | ISBN: 1496339967 | 6072 Pages | PDF | 40 MB
Make quick and accurate diagnoses and treatment decisions at the point of care with this bestselling guide! The 5-Minute Clinical Consult Standard 2017 is a practical and useful resource for primary care clinicians, as well as those in family medicine, emergency medicine, nursing, and pediatrics. Using a three-column, bulleted format, the print edition provides rapid access to diagnosis, treatment, medications, follow-up, and associated factors for more than 570 diseases and conditions, plus over 110 diagnostic and therapeutic algorithms.
The 5-Minute Clinical Consult Standard 2017, 25th Edition, includes:
Succinct information on more than 570 commonly encountered diseases and disorders and 110 treatment and diagnostic algorithms (20 are new!)
ICD-10 codes
Evidence-based medicine content, fully updated and easily accessible for quick reference.
Accurate drug dosing information carefully reviewed by a PharmD
Written by esteemed internal medicine and family medicine practitioners and published by the leading publisher in medical content, The 5-Minute Clinical Consult Standard 2017, 25th Edition includes a Free Trial to 5MinuteConsult.com
5MinuteConsult.com is a quicker, more valuable, evidence-based, online workflow tool easily integrated at the point of care. 5MinuteConsult.com provides online-exclusive content, including:
Differential diagnosis support from an expanded collection of algorithms
Current evidence-based designations highlighted in each topic
570+ commonly encountered diseases in print, with an additional 1,400 online topics, including content from The 5-Minute Pediatric Consult and Rosen & Barkin's 5-Minute Emergency Medicine Consult
Thousands of images to help support visual diagnosis of all conditions
Video library of procedures, treatment, and physical therapy
A-to-Z Drug Database from Facts & Comparisons®
Laboratory test interpretation from Wallach's Interpretation of Diagnostic Tests
More than 3,000 patient handouts in English and Spanish
ICD-10 codes, DSM-5 criteria, and SNOMED codes
Quick-access link to the U.S. Preventive Services Task Force calculator
Point-of-care CME/CE: .5 credits while you search the site to find the best treatment for your patients. This activity has been reviewed and is acceptable for up to 20 prescribed credits by the AAFP and the ANCC