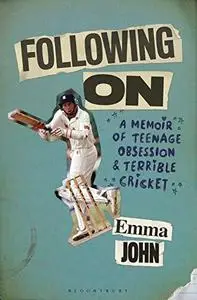 Following on : a memoir of teenage obsession and terrible cricket By John, Emma
2016 | 272 Pages | ISBN: 1472916875 | EPUB | 2 MB
The summer of 1993 was a pivotal moment in English cricket: a team of aging stalwarts and hapless debutantes had just limply surrendered the Ashes again, but a promising young captain won his second match while in charge of a team full of new names. England fans heralded the dawn of a new era. Instead, it turned out to be the start of England's arguably worst streak in any sport--a decade of frustration, dismay, and comically bungling performances that no fan will ever forget. The English cricket team became infamous for their ineptitude and a byword for British failure. By 1999, the team had reached its nadir, losing at home to New Zealand to become, officially, the worst test team in the world, ranking below even Zimbabwe. With spectacularly poor timing, fourteen-year-old Emma John chose 1993 to fall in love with cricket and, mystifyingly, with that terrible English cricket team. One day, with nothing better to do, she asked her sports-fanatic mother to explain the rules of the game on TV. Within a fortnight, Emma was a full-fledged cricket geek. Nearly a quarter of a century later, she goes back to England to meet her teenage heroes and find out just what was going on in the Worst English Cricket Team of All Time. As she traipses back through her adolescence, Following On is also a personal memoir of what it was like to grow up following a team that always lost--and why on earth anyone would choose to do it.