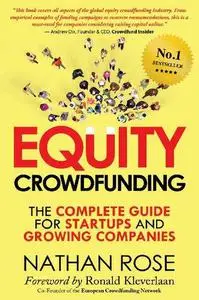 Equity Crowdfunding: The Complete Guide for Startups and Growing Companies By Nathan Rose
2016 | 240 Pages | ISBN: 0473377985 | EPUB | 1 MB
Raise Money & Gain Exposure At The Same Time!Tired of fruitless pitch meetings with investors and the limitations of trying to grow a business through bootstrapping? Equity crowdfunding is a new, fresh alternative to Silicon Valley venture capital. Hundreds of thousands, or even millions of dollars, can be raised by offering shares in your startup to members of the public. Gaining marketing exposure and raising business funding are #1 and #2 on the priority list for many entrepreneurs. But they were always separate activities - first raise the money, then spend it on marketing. Until now! A New Hybrid of Venture Capital & Kickstarter. Equity crowdfunding is a new form of investment banking for startups, small business and new business, enabled by advances in fintech. The entrepreneurs set their own offer terms, retain their company culture, and bring on dozens, or even hundreds of shareholders and gain all the promotional benefits that come with a larger 'crowd'. And unlike the "rewards" crowdfunding offered by sites like Kickstarter and Indiegogo, equity crowdfunding allows a company to offer shares, instead of a pre-ordered product. This means it can be used by more varied business models, and typically attracts a lot more money. If you are successful at equity crowdfunding, your days of bootstrapping your product launch will be over! This Book Will Show You How. Equity crowdfunding offers amazing potential for startups and growing companies, but it is also a very steep learning curve. Many companies begin with no real idea of how to choose a platform, how to craft their pitch, or what they should be doing to drive people to their offer page and invest. The author, Nathan Rose, comes from an investment banking background, advising companies on initial public offerings. Now, he brings the same practical experience to new business, small business, and startups. In this step-by-step guide, you will learn: - The forces in fintech which have brought equity crowdfunding to where it is today - A comparison with business funding through bootstrapping, family & friends, incubators, Silicon Valley venture capital, and Kickstarter. - The biggest mistakes that can kill an offer before it has even begun - How to build critical momentum - one company raised 1 million in 96 seconds! - How to construct a marketing plan to get people literally counting down to your launch - How to salvage an offer which is "stuck," and re-ignite the momentum - What past campaigns wished they had known before they had started - The incredible impact equity crowdfunding can have on your business and profile The World's Most Comprehensive ResourceThe very best strategies from 20 real companies who have used equity crowdfunding to raise millions of dollars, euros and pounds. And the expert advice from 12 market-leading platforms at the forefront of the equity crowdfunding revolution. Featuring contributions from the United Kingdom, the United States, France, the Netherlands, Germany, Sweden, Finland, Estonia, Canada, the Middle East, Australia and New Zealand. The only book necessary for startups, incubators, accelerators, co-working spaces, universities, education institutions, and business networks. Buy this book to learn everything about equity crowdfunding... from the ground up.