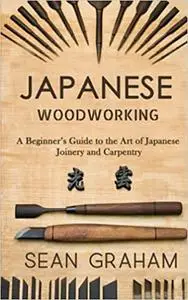 Sean Graham, "Japanese Woodworking: A Beginner's Guide to the Art of Japanese Joinery and Carpentry"
English | 2021 | ASIN: B09755XCD9 | 108 pages | EPUB | 3.6 MB
Discover How to Master the Timeless Art of Japanese Woodworking without Spending Tons of Time and Money on Tools and Equipment
Are you a DIY hobbyist looking for a new hobby to learn and pass away time? Do you want to learn how to make aesthetic, but structurally strong woodworking techniques? Do you want to give your home a touch of the Japanese exotic without having to leave the bedroom?
If your answer is yes to any of the questions above, then this book is perfect for you.
In this definitive book on Japanese woodworking, you'll discover a methodical, beginner-friendly approach to mastering Japanese woodworking without being an apprentice for years, from choosing the right tools to mastering the foundational techniques for creating beautiful and strong joints.
Here's a snippet of what you're going to discover in the pages of Japanese Woodworking:
Everything you need to know about the origin and history of the beautiful art of Japanese woodworking
Four reasons every hobbyist or serious craftsman should consider adding Japanese woodworking to their skillset
A complete list of all the tools and equipment you'll ever need and how to use them to make Japanese woodworking a breeze. No expensive machines required
How to pick the perfect sharpening stone for keeping your cutting edges and blades as sharp as possible
The different types of wood for Japanese woodworking and a crash guide to picking the perfect wood specimen for your needs and getting it ready for woodworking
Step-by-step instructions to help you master the art of Japanese joinery from making simple joints to more advanced woodworking tactics
…and much more!
Whether you're a complete newbie looking for a new hobby or a serious professional who knows woodworking techniques and is looking for a new one, this book has content that will surprise even the most experienced of wood crafters and is beginner-friendly enough to follow along!