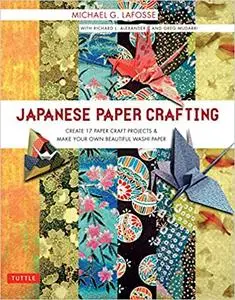 Japanese Paper Crafting: Create 17 Paper Craft Projects and Make Your Own Beautiful Washi Paper by Michael G. LaFosse
English | 15 July 2014 | ISBN : 4805312920 | 128 pages | MOBI | 13.2 MB
An extraordinary bowl, a dazzling desk organiser, a custom hand-sewn photo album all of these beautiful items and more can be created from handmade Japanese washi paper that you easily make at home. Japanese Paper Crafting shows you how to make your own handmade washi paper and then how to create 17 amazing objects from it that are as beautiful as they are useful! This handsome volume by master origami artist Michael LaFosse demonstrates two traditional Japanese methods of papermaking that you can use at home to create your own distinctive handmade papers. It then gives easy-to-follow instructions for 17 different papercrafting projects. Detailed how-to photos and diagrams help you make objects ranging from traditional Japanese tsutsumi (paper gift wrappers) to contemporary boxes, stationery and decorations. This book makes a wonderful gift for crafters of all ages.