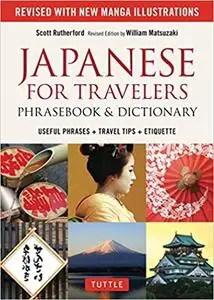 Scott Rutherford, William Matsuzaki, "Japanese for Travelers Phrasebook & Dictionary: Useful Phrases + Travel Tips + Etiquette + Manga"
English | 2017 | ISBN: 480531348X | 192 pages | MOBI | 4.1 MB
This travel–sized 4 x 7 inch book is a combination Japanese phrasebook, Japanese travel guide and Japanese etiquette guide.
Packed with expressions and information for every travel situation, Japanese for Travelers Phrasebook & Dictionary helps you to get around and communicate more effectively during your time in Japan. This book includes hundreds of tips and phrases for the following situations:
Meeting people
Asking directions
Shopping and asking about prices
Ordering food and drinks
Getting connected to the Internet
Taking a subway, bus or taxi
Asking for help
Daily conversations
Helpful illustrations demystify Japan's complicated rail system and provide handy information on ferry travel as well. The text offers tips on where to look for a cheap, comfortable night's sleep (you'd be surprised), to whom not to stand behind when in line at customs, as well as essential things to purchase for your Japan trip before you leave your home country and how to say you do not eat fugu (poisonous pufferfish!).
About this new, updated edition:
New manga illustrations
New phrases for technology, checking in for a flight, baggage claim and more!
Japanese script and Romaji have been added for all phrases
Suggestions for downloading useful apps to make travel around Japan easier