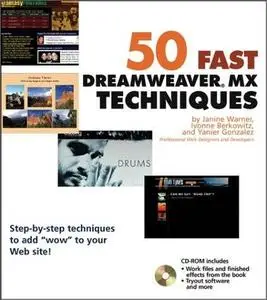 50 Fast Dreamweaver MX Techniques, by Janine Warner, Yanier Gonzalez and Ivonne Berkowitz - Wiley Publishing
| 50 Fast Dreamweaver MX Techniques | ISBN: 0-7645-3894-2 | 2003 Year |
| PDF | 33.01 MB | 286 Pages |
50 Fast Dreamweaver MX Techniques takes you way beyond Web Design 101 to show you
how to quickly enhance your Web projects with the most sophisticated, visually captivating
designs that are possible on the Web today.We also show you how Macromedia makes
it easy for you to create these features with Dreamweaver. We included a few techniques
related to Fireworks and Flash files because we want to help you get the most out these
programs' integrated features.Whether you create your own Flash and Fireworks files, or
just use Dreamweaver to pull everything together for your team, this book will help you
take Web design to the next level.
In 50 Fast Dreamweaver MX Techniques, you'll discover the hottest things you can do on
the Web (the things other designers are always asking us to show them how we pulled
them off). Each technique is fully illustrated and carefully described in step-by-step detail
so that you can figure out how to use these cool features right away.
The 50 techniques detailed in this book are organized into 10 chapters. You can read them
in any order and jump right into the ones that you are most interested in putting to use
right away. As a general rule, the techniques do not build on each other, meaning you do
not need to learn something from an earlier technique to be able to complete a later one.
However, the first two chapters are designed to ease you into things (if that's your preference).
Chapters 1 and 2 cover some of the simpler techniques so that you can enjoy instant
gratification and pick up some of the basics (or get a quick refresher course) before you
progress into the more complex techniques that make Dreamweaver such a powerful Web
design tool.All three authors have drawn on real-world experience, including their favorite features and elements to show you how to create powerful features that really work on the Web today.We assume that you have some general knowledge of Dreamweaver, but within each section we explain everything you need to know to complete that technique and get it done fast. So dive into Chapter 1 or skip ahead to any chapter and get started right away on that cool feature you always wanted to add to your Web page.