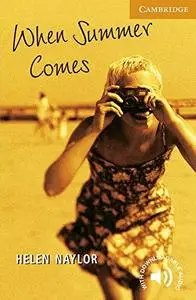 When Summer Comes Level 4 By Helen Naylor
1999 | 84 Pages | ISBN: 0521656117 | PDF | 1 MB
Cambridge English Readers is an exciting new series of original fiction, specially written for learners of English. Graded into six levels - from elementary to advanced - the stories in this series provide easy and enjoyable reading on a wide range of contemporary topics and themes. Stephen and Anna Martins take a holiday break in a seaside village to escape the stress of London. They love it there and make a new friend, a local fisherman. But when Stephen is suddenly called back to London on business, their lives start to change. The cassette(s) contains a recording of the full text of the book.