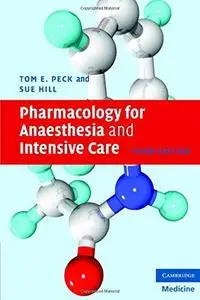 Pharmacology for Anaesthesia and Intensive Care By Tom E. Peck, Sue Hill
2008 | 390 Pages | ISBN: 0521704634 | PDF | 4 MB
The third edition of this market leading book has been thoroughly updated and expanded, with additional contributions from experts in the field, to include all new drugs available to the anaesthetist and intensive care specialist. Basic pharmacological principles, vital to understanding how individual drugs actually have their effects, are dealt with methodically and with many highly annotated diagrams and tables. With hospital infections becoming increasingly prevalent, the important section on antibiotics has been further expanded. With the third edition, this well established title continues to provide its readers with the most concise yet comprehensive coverage of all aspects of pharmacology. An ideal aid to study and practice for junior and trainee anaesthetists, critical care nurses and all physicians and healthcare professionals working in theatre, accident and emergency departments or intensive care units.