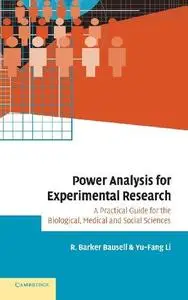 Power Analysis for Experimental Research: A Practical Guide for the Biological, Medical and Social Sciences By R. Barker Bausell, Yu-Fang Li
2002 | 376 Pages | ISBN: 0521809169 | PDF | 5 MB
Power analysis is an essential tool for determining whether a statistically significant result can be expected in a scientific experiment prior to the experiment being performed. This comprehensive, accessible book provides practicing researchers with step-by-step instructions for conducting power/sample size analyses, assuming only basic prior knowledge of summary statistics and normal distribution. It contains a unified approach to statistical power analysis, with numerous easy-to-use tables that make further calculations or statistical expertise unnecessary.