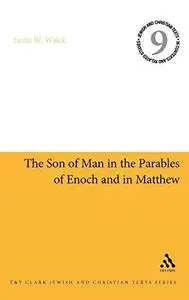 Son of Man in the Parables of Enoch and in Matthew By Leslie W. Walck
2011 | 282 Pages | ISBN: 0567027295 | PDF | 4 MB
This title examines all the relevant passages containing the Term 'Son of Man' in both "Matthew" and the "Parables of Enoch". Depictions of the Son of Man in the Gospel of "Matthew" and in the "Parables of Enoch" (Par. En.) raise questions about their relationship. The meaning and origin of the term 'Son of Man' are discussed, as well as the possible influence of "Par. En." on "Matthew". Literary, Redaction, Sociological and Narrative criticisms are employed. Introductory questions of date, provenance and social setting are addressed for both "Matthew" and "Par. En.". Dates as early as the early second century BCE and as late as the late third century CE have been proposed for "Par. En.", but a consensus seems to be growing for the late first century BCE. Therefore "Matthew" could have known "Par. En.". Sociological methodologies reveal that the author and audience of "Par. En." may have been members of an ousted ruling elite, opposed to the current administration, and yearning for a just reversal of fortunes. Sets of characteristics of the Son of Man in "Par. En." and "Matthew" are developed, and the term is examined briefly in the other Gospels. Then the two sets of characteristics are carefully compared. Similarities in vocabulary as well as in the pattern of relationships prove to be intriguing, showing that "Matthew" and "Par. En.", in contrast to other writings, share a unique conception of the judgment scene focussed on the Son of Man as eschatological judge. This suggests quite strongly the shaping of "Matthew"'s concept in the direction of "Par. En.". This series focuses on early Jewish and Christian texts and their formative contexts; it also includes sourcebooks that help clarify the ancient world.