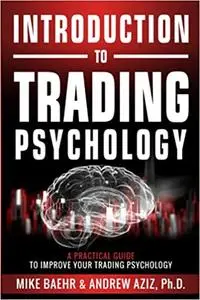 Mike Baehr, Andrew Aziz, "Introduction to Trading Psychology: A Practical Guide to Improve Your Trading Psychology"
English | 2021 | ASIN: B094RBHQKK | 216 pages | EPUB | 1.6 MB
In this book, Mike describes the foundation of building a successful career in trading based on the three essential pillars of technology, strategy, and psychology. While technology and strategy may seem like the ideal place to focus the majority of your time, it truly is your focus on the psychology pillar that will bring your trading to an entirely different level. Join Mike and Andrew as they explore how the mind affects your trading performance. This practical guide is broken down into six parts to assist you in discovering the concepts associated with trading psychology. In Part 1, you will embark on a journey which examines the challenges of trading, self-evaluation, and how to determine your trader personality. You and Mike will then together investigate how your mind deals with uncertainty and how that affects your decision-making process. In Part 3, you will come to understand the importance of discipline in trading and why some people who are well-disciplined in a particular profession do not necessarily carry those skills over to their trading. The next part will introduce you to the concept of remaining mindful and in the present moment while you are analyzing the market prior, during, and after a trade. Part 5 covers the inevitable feelings of doubt that will arise during a drawdown, and how the attribute of mental resilience plays a vital role in recovering your emotional capital. Finally, the book concludes with the often forgotten about aspect of living a healthy lifestyle and the impact that has on your trading account.