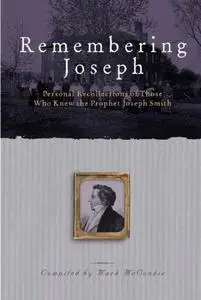 Remembering Joseph: Personal Recollections of Those Who Know the Prophet Joseph Smith By Mark L. McConkie
2011 | 529 Pages | ISBN: 1570089639 | EPUB | 2 MB
Anyone interested in Joseph Smith will be fascinated by Remembering Joseph, the most complete collection ever of stories from the Prophet's family, friends, acquaintances — even his enemies. Organized topically, the stories treat a wide variety of subjects: the character of Joseph Smith, the doctrines he taught, the gifts of the Spirit he enjoyed, important events in his life, and many others. A great number of these stories have not previously been published. A great resource on the Prophet's life, from the perspective of those who saw him live it.