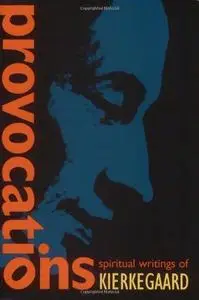 Provocations: Spiritual Writings of Kierkegaard By Soren Kierkegaard, Charles E. Moore
2003 | 448 Pages | ISBN: 1570755132 | PDF | 2 MB
The purpose of this new collection is two fold. First, to make Kierkegaard accessible; second, to present in as concise a way possible his ''heart,'' his core themes, and his passion. Divided into six sections, Provocations contains a little of everything from Kierkegaard's prodigious output, including his famously cantankerous (yet wryly humorous) attacks on what he calls the ''mediocre shell'' of conventional Christianity, his brilliantly pithy parables, and his incisive attempts to dig through the fluff of theology and clear a way for the basics: decisiveness, obedience,and recognition of the truth. Arguably the most accessible Kierkegaard volume to be published in decades, Provocations is a must for every serious reader. Indeed, the wealth of sayings and aphorisms collected in one of the sections is reason enough to buy the book.