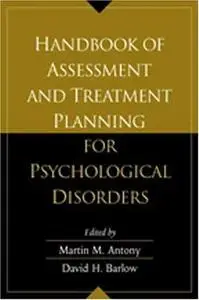 Handbook of Assessment and Treatment Planning for Psychological Disorders By Martin M. Antony PhD, David H. Barlow PhD
2001 | 608 Pages | ISBN: 157230703X | PDF | 5 MB
This comprehensive reference and text provides detailed guidelines for conducting multimodal assessments of individuals suffering from frequently encountered psychological disorders. The contributors, leading scientist-practitioners, address the growing need for assessment approaches that are brief, easy to implement, and psychometrically sound. A wide range of tools and techniques are considered, including structured and semi-structured interviews, self-report measures, psychophysiological measures, observational techniques, and more. Of crucial importance, the book also demonstrates how assessment results can effectively be used in planning evidence-based interventions and monitoring the outcome of treatment. Providing essential knowledge to guide clinical decision making, this volume is an ideal companion for psychologists, psychiatrists, and other practitioners in today's demanding health care environment. An important reference for clinical researchers, it will serve as a text in graduate-level courses.