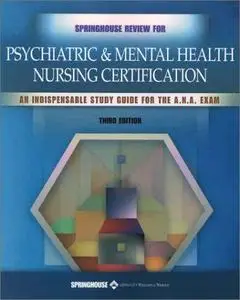 Springhouse Review for Psychiatric and Mental Health Nursing Certification By Springhouse, Nancy Randolph
2002 | 286 Pages | ISBN: 1582551731 | PDF | 2 MB
This comprehensive review book includes all the information needed to confidently pass the psychiatric and mental health nursing certification exam. For each psychiatric disorder, the text provides causes, signs and symptoms, nursing diagnoses, and nursing interventions. Presented in a clear outline format, the book also contains quick-reference charts, appendices, selected references, and a posttest in the same format as the actual exam. Each chapter includes a clinical situation that follows the nursing process format, with rationales for every intervention. The book also covers such key top.