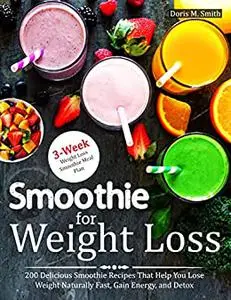 Doris M. Smith, "Smoothie for Weight Loss: 200 Delicious Smoothie Recipes That Help You Lose Weight Naturally Fast, Gain energy, and Detox"
English | 2022 | ASIN: B09TZ5P5Y9 | 195 pages | EPUB | 0.39 MB
Live a healthy life and learn healthy eating habits with 200 Delicious Smoothie Recipes
Want Healthy Smoothies That are Convenient and Delicious?
The biggest problem most people run into when trying to eat healthier is finding the time to make the right foods. Junk food is so much more convenient. Now, you will get a huge collection of delicious smoothie recipes that you can prepare in 2 to 4 minutes in this cookbook. It is the most convenient way to make sure you and your family are getting healthy and tasty meals.
It is amazing that we are actually surrounded by power foods with surprising qualities.
Inexpensive, quick to cook and delicious common foods we love and eat regularly have fantastic immunity-boosting, age-defying super-powers.
Superfoods in your backyard not only nourish your body on a very deep level but fight off a range of health disorders and, at the same time, help you stay fit and energetic.
Lose weight while still ramping up your daily dose of vital vitamins, necessary nutrients, and amazingly-powerful antioxidants
You will discover inside:
200 Mouth-Watering Recipes –- with the best recipes that are balanced and geared toward weight loss and detox
Tips and Tricks–- to aid your planning and your knowledge base in understanding the fundamentals.
Helpful Facts–- about the importance of alkalinity within the body and its important processes.
3-Week Smoothie Meal Plan–- You will feel happier and healthier as you easily follow a smoothie lifestyle.
With great nutrition and easy-to follow instructions, this book will keep you entertained and feeling great too. If you want to lose weight and feel energized, this is definitely the book for you! Get your amazing copy today! You deserve it. See you inside!