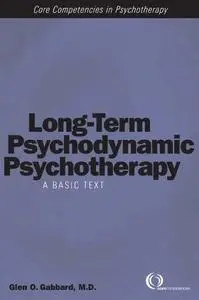 Long-Term Psychodynamic Psychotherapy: A Basic Text (Core Competencies in Psychotherapy) By Glen O. Gabbard
2004 | 210 Pages | ISBN: 1585621447 | PDF | 2 MB
The thirst to understand, to Aknow thyself,A is as strong as everAdespite managed care's demands, society's Aquick fixA mentality, and psychopharmacology's remarkable progressAand goes a long way toward explaining the continued popularity of long-term psychodynamic psychotherapy. The first of five volumes in the groundbreaking Core Competencies in Psychotherapy series, this exceptionally practical text by a renowned expert introduces students and professionals to the basic principles of long-term psychodynamic psychotherapy, focusing on long-term dynamic work with adults in individual therapy. Unlike other texts, this concise yet comprehensive volume -Takes difficult theoretical concepts and makes them accessible and practical for psychotherapists who want to master long-term psychodynamic psychotherapy -Grows directly from the author's teaching experience with trainees and their questions and concerns and is thus directly linked to the types of learning problems encountered by the students who will use this book -Uses clinical vignettes to show how to apply the key principles of psychodynamic theory to difficult clinical cases and how to grapple with the dilemmas that often arise in psychotherapeutic work -Provides both residents and training directors with a guide to achieving core competency in this field, as mandated by the Residency Review Committee for Psychiatry. The author's approach reflects his personal therapeutic styleAdeveloped over 25 years of practiceAand draws from several theoretical models, illustrating the pluralism in the field today and his own synthesis of those diverse conceptual frameworks. Beginning with a review of basic psychodynamic principles, the author then discusses how to assess patients, write a formulation, and think about indications and contraindications for long-term psychodynamic psychotherapy. In additional chapters, the author focuses on major issues such as starting the therapy, the use of interventions, goals and therapeutic action, ways to work with resistance, countertransference, the use of fantasies and dreams, and termination of therapy. The last two chapters cover the optimal use of supervision and how to measure core competency achievement. Though written with the psychiatric resident in mind, this remarkably practical text will appeal to a broad audience of trainees in fields such as psychology, social work, counseling, and nursing. It will also be welcomed by educators and students alike as an invaluable teaching tool that can be Aput to workA right away as a powerful adjunct to supervision, classroom teaching, and clinical experience with a variety of patients.