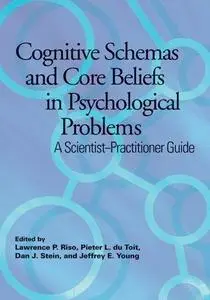 Cognitive schemas and core beliefs in psychological problems: A scientist-practitioner guide By Lawrence P. Riso, Pieter L. du Toit, Dan J. Stein, Jeffrey E. Young
2007 | 240 Pages | ISBN: 1591477824 | PDF | 13 MB
Cognitive approaches to psychopathology have evolved from a primary focus on superficial cognition and automatic thoughts to an increased interest in more deeply rooted aspects of cognition, namely, cognitive schemas and core beliefs. Rather than simply focusing on the remediation of acute clinical states, the latest cognitive models are examining premorbid and post-episodic functioning. Findings suggest that cognitive schemas play a principal role in the development and maintenance of psychological disorders, as well as in the recurrence and relapse of future episodes. This book provides up-to-date information on the evaluation and utility of the schema concept and core beliefs as they apply to the research and treatment of a variety of clinical problems, including both major and chronic depression, posttraumatic stress disorder, substance use disorders, obsessive-compulsive disorder, schizophrenia, eating disorders, and dissatisfaction in intimate relationships.