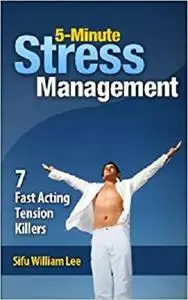 5-Minute Stress Managment: 7 Fast Acting Tension Killer Methods by Sifu William Lee
English | July 15, 2013 | ISBN: 1491244917 | 74 pages | EPUB | 0.49 Mb
This book fulfils one of the greatest needs of modern men and women - to successfully deal with the 'silent killer' of the modern age…. stress! Well-known for using a simple and practical approach that works, William Lee (author of Amazon bestsellers - 5 Minute Chi Boost, Healing Chi Meditation and Total Chi Fitness) explains 7 easy stress-killing methods that offer immediate relief from stress and tension.       Also, these methods can significantly reduce long-term, unwanted side effects of stress. Videos, photos, and detailed instructions allow readers to quickly generate strong anti-stress effects, without additional resources. Warning: those looking for lengthy theoretical knowledge will be frustrated. This is simple yet very effective approach that doesn't aim to satisfy ones thrust for gathering information and 'learning' about the causes of stress. If you are looking for practical, simple methods that actually kill stress, this book is for you. Use them and you will lower your stress levels gradually by annihilating effects and causes of stress, one by one.