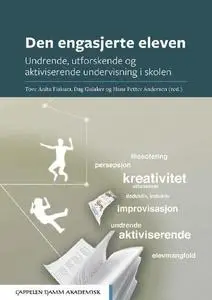 Den engasjerte eleven : Undrende, utforskende og aktiviserende undervisning i skolen by Kathrine Hundal, Anne
Norsk | 2018 | ISBN: N/A | 252 Pages | PDF | 2.80 MB
"Lærelyst er nå blitt et sentralt begrep i skolepolitikken. Det skal satses på en skole der elever skal være motiverte, engasjerte og ha lyst til å lære. For at dette skal gjelde alle elever, må det legges vekt på en skole der elevene opplever mestring på bakgrunn av sine forutsetninger. Variasjon i undervisningen er viktig for at elevene skal føle mestring og dermed få lyst til å lære mer. Et viktig grunnlag for økt lærelyst finner vi i engasjement. Den engasjerte læreren får ofte mye og fortjent oppmerksomhet. Men det er først når elevene blir engasjerte i læringa at de gode læringsutbyttene kommer. I Den engasjerte eleven belyser vi hvordan vi gjennom undrende, utforskende og aktiviserende undervisning kan føre til engasjerte elever. Antologien inneholder 12 fagfellevurderte kapitler skrevet av forfattere som underviser i et bredt spekter av fag ved lærerutdanningen ved Nord universitet. Boka er delt i to deler. Den første delen starter med noen generelle kapitler som bevisstgjør leseren på hva undrende, utforskende og aktiviserende undervisning faktisk er, og hva som skiller disse tre ulike tilnærmingene fra hverandre. I tillegg vil leseren bli bevisstgjort verdigrunnlag og overgripende syn som vil ligge bak valgene av undervisningsform og forhold ved eleven som vil påvirke hvordan læringsutbyttet i slike arbeidsformer vil bli. Dette er kunnskap som blir vesentlig når vi skal vurdere undervisningsoppleggene: Hvorfor fungerte opplegget bra? Hvorfor gikk det ikke bra? I del to av boka presenteres ulike undrende, utforskende og aktiviserende arbeidsformer. Noen av metodene presenteres innenfor et eller to fag, andre metoder presenteres mer generelt. I disse kapitlene vil leseren få eksempler som belyser motivasjonsteori, mer innblikk i verdien av tverrfaglig arbeid, og mulige effekter vi kan få av en læringsaktivitet som ikke nødvendigvis er på jakt etter ett eneste riktig svar. Antologien henvender seg til studenter og lærere som ønsker å skape mer elevengasjement i undervisninga."