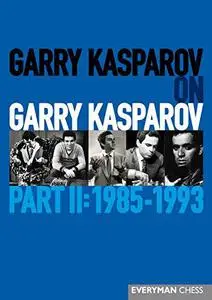 Garry Kasparov on Garry Kasparov, Part 2: 1985-1993 (Everyman Chess) By Garry Kasparov
2013 | 496 Pages | ISBN: 178194024X | PDF | 49 MB
Garry Kasparov on Garry Kasparov: Part II is the second volume in a major three-volume series made unique by the fact that it records the greatest chess battles played by the greatest chessplayer of all-time Part I of this series saw Kasparov emerging as a huge talent and eventually toppling his great rival Anatoly Karpov to gain the world title. This volume focuses on the period from 1985-1993 which witnessed two further matches against Karpov as well as Kasparov's first title clash with a "non-Karpov" opponent when he successfully defended his title against Nigel Short in London in 1993. In this period Kasparov emphasized his huge superiority over his rivals. Despite generally adopting an uncompromising, double-edged attacking style he almost never lost. The games in this volume feature many masterpieces of controlled aggression played against the world's absolute best.