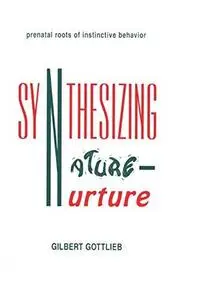 Synthesizing Nature-nurture: Prenatal Roots of Instinctive Behavior By Gilbert Gottlieb
1997 | 187 Pages | ISBN: 0805828702 | EPUB | 5 MB
This volume provides a primarily nontechnical summary of experimental and theoretical work conducted over the course of 35 years which resulted in a developmental framework capable of integrating causal influences at the genetic, neural, behavioral, and ecological levels of analysis. It describes novel solutions to the nature-nurture problem at both the empirical and theoretical levels. Following field observations, laboratory experiments led to the discovery of the nonobvious prenatal experiential basis of instinctive behavior in two species--ground-nesting mallard ducklings and hole-nesting wood ducklings. This work also describes the experiences that lead to the rigid canalization of behavioral development as well as the social and sensory experiences that favor the continuance of flexibility. The author also describes in detail a developmental psychobiological systems view that supports a behaviorally and psychologically mediated pathway to evolutionary change in humans and other species. Written in a way that is readable to even the nonspecialist, the text is accompanied by numerous photographs that illuminate and add personal meaning to the written words. Readers will be engaged by the emphasis on the human aspect of the scientific enterprise.