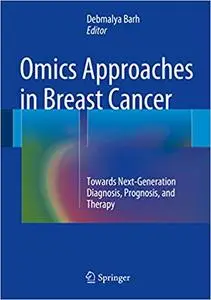 Debmalya Barh, "Omics Approaches in Breast Cancer: Towards Next-Generation Diagnosis, Prognosis and Therapy"
English | 2014 | ISBN: 8132208420 | PDF | pages: 559 | 13.6 mb
Breast cancer is the most common cancer in females that accounts for highest cancer specific deaths worldwide. In the last few decades research has proven that breast cancer can be treated if diagnosed at early stages and proper therapeutic strategy is adopted. Omics-based recent approaches have unveiled the molecular mechanism behind the breast tumorigenesis and aid in identification of next-generation molecular markers for early diagnosis, prognosis and even the effective targeted therapy. Significant development has taken place in the field of omics in breast cancer in the last decade. The most promising omics approaches and their outcomes in breast cancer have been presented in this book for the first time. The book covers omics technologies and budding fields such as breast cancer miRNA, lipidomics, epigenomics, proteomics, nutrigenomics, stem cell, pharmacogenomics and personalized medicine and many more along with conventional topics such as breast cancer management etc. It is a research-based reference book useful for clinician-scientists, researchers, geneticists and health care industries involved in various aspects of breast cancer. The book will also be useful for students of biomedicine, pathology and pharmacy.