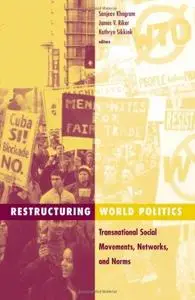 Restructuring World Politics: Transnational Social Movements, Networks, and Norms By Sanjeev Khagram, James V. Riker, Kathryn Sikkink
2002 | 380 Pages | ISBN: 081663906X | PDF | 3 MB
From the earliest campaign against Augusto Pinochet's repressive practices to the recent massive demonstrations against the World Trade Organization, transnational collective action involving nongovernmental organizations has been restructuring politics and changing the world. Ranging from Santiago to Seattle and covering over twenty-five years of transnational advocacy, the essays in Restructuring World Politics offer a clear, richly nuanced picture of this process and its far-reaching implications in an increasingly globalized political economy. The book brings together scholars, activists, and policy makers to show how such advocacy addresses-and reshapes-key issues in the areas of labor, human rights, gender justice, democratization, and sustainable development throughout the world. A primary goal of transnational advocacy is to create, strengthen, implement, and monitor international norms. How transnational networks go about doing this, why and when they succeed, and what problems and complications they face are the main themes of this book. Looking at a wide range of cases where nongovernmental actors attempt to change norms and the practices of states, international organizations, and firms in the private sector-from debt restructuring to protecting human rights, from anti-dam projects in India to the prodemocracy movement in Indonesia-the authors compellingly depict international nongovernmental organizations and transnational social movements as considerable, emerging powers in international politics, initiating, facilitating, and directing the transformation of global norms and practices. Contributors: Karen Brown Thompson, U of Minnesota; Charles T. Call, Brown U; Elizabeth A. Donnelly, Harvard U; Darren Hawkins, Brigham Young U; Thalia G. Kidder; Smitu Kothari; Paul J. Nelson, U of Pittsburgh; August Nimtz, U of Minnesota; Mark Ritchie, Institute for Agriculture and Trade Policy; Jackie Smith, SUNY Stony Brook; Daniel C. Thomas, U of Illinois, Chicago. Sanjeev Khagram is assistant professor of public policy at the Kennedy School of Government at Harvard University. James V. Riker is coordinator of the Nonprofit Leadership and Democracy Project at the Union Institute in Washington, D.C. Kathryn Sikkink is professor in the Department of Political Science at the University of Minnesota.