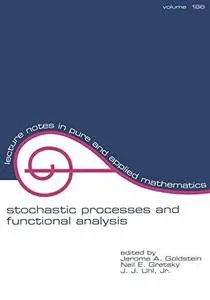 Stochastic Processes and Functional Analysis By Jerome Goldstein, Neil Gretsky, John Uhl
1997 | 292 Pages | ISBN: 0824798015 | PDF | 17 MB
"Covers the areas of modern analysis and probability theory. Presents a collection of papers given at the Festschrift held in honor of the 65 birthday of M. M. Rao, whose prolific published research includes the well-received Marcel Dekker, Inc. books Theory of Orlicz Spaces and Conditional Measures and Applications. Features previously unpublished research articles by a host of internationally recognized scholars."