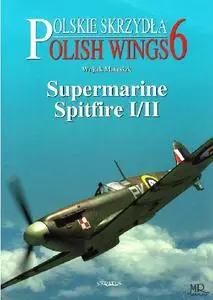 Supermarine Spitfire I/II (Polish Wings 6)
2007 | ISBN: 8389450550 | English | 50 Pages | PDF | 86,5 MB
The author begins this volume with a discussion of the Polish governments effort to purchase Spitfires from the UK. Interestingly, he attempts to trace the fate of the single Spitfire sent to Poland. If true, this refugee Spitfire made its way back to the RAF in Egypt, after service in the Turkish Air Force. The narrative then continues with a description of Poles serving in RAF squadrons during the Battler of Britain. Polish pilots were assigned to Spitfires during the height of the Battle, during the first week of August 1940. The bulk of the monograph focuses on the specific Polish Air Force Squadrons that operated the Spitfire Mk. I/II in combat. These squadrons were 303 Sq. City of Warsaw (RF), 308 Sq. City of Cracow (ZF), 306 Sq. City of Torun (UZ) and 315 sq. Deblin (PK). While other Polish squadrons received the Mk. I/II Spitfire, these were used in training, not operational roles. The author also notes the use of the early Spitfires by Polish pilots in other capacities. This includes Polish pilots serving in PRUs OTUs and Ferry Flights. As in the prior monographs in the Polish Wings series, the profiles are well integrated with photographs of the actual aircraft. The photographs also receive detailed captions, a lot more than just serial number and squadron.