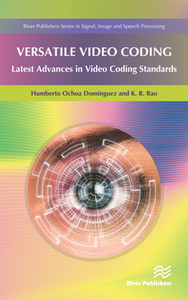 Versatile Video Coding
by K. R. Rao and Humberto Ochoa Dominguez
English | 2019 | ISBN: 8770220476 | 460 Pages | PDF | 5.57 MB
Video is the main driver of bandwidth use, accounting for over 80 percent of consumer Internet traffic. Video compression is a critical component of many of the available multimedia applications: being necessary for storage or transmission of digital video over today's band-limited networks. The majority of this video is coded using international standards developed in collaboration with ITU-T Study Group and MPEG.
The MPEG family of video coding standards began in the early 1990s with MPEG-1, developed for video and audio storage on CD-ROMs, with support for progressive video. MPEG-2 was standardized in 1995 for applications of video on DVD, standard and high definition television, with support for interlaced and progressive video. MPEG-4 part 2, also known as MPEG-2 video, was standardized in 1999 for applications of low- bit rate multimedia on mobile platforms and the Internet, with the support of object-based or content based coding by modeling the scene as background and foreground. Since MPEG-1, the main video coding standards were based on the so-called macroblocks. However, research groups continued the work beyond the traditional video coding architectures and found that macroblocks could limit the performance of the compression when using high-resolution video. Therefore, in 2013 the high efficiency video coding (HEVC) also known as H.265, was released, with a structure similar to H.264/AVC but using coding units with more flexible partitions than the traditional macroblocks. HEVC has greater flexibility in prediction modes and transform block sizes, also it has a more sophisticated interpolation and deblocking filters.
In 2006 the VC-1 was released. VC-1 is a video code implemented by Microsoft and the Microsoft Windows Media Video (VMW) 9 and standardized by the Society of Motion Picture and Television Engineers (SMPTE). In 2017 the Joint Video Experts Team (JVET) released a call for proposals for a new video coding standard initially called Beyond the HEVC, Future Video Coding (FVC) or known as Versatile Video Coding (VVC). VVC is being built on top of HEVC for application on Standard Dynamic Range (SDR), High Dynamic Range (HDR) and 360° Video. The VVC is planned to be finalized by 2020.
This book presents the new VVC, and updates to the HEVC. The book discusses the advances in lossless coding and covers the topic of screen content coding. Technical topics discussed include:
- Beyond the High Efficiency Video Coding
- High Efficiency Video Coding encoder
- Screen content
- Lossless and visually lossless coding algorithms
- Fast coding algorithms
- Visual quality assessment
- Other screen content coding algorithms
- Overview of JPEG Series
If you want to support my blog, then you can buy a premium account through any of my files (i.e. on the download page of my book). In this case, I get a percent of sale and can continue to delight you with new books!