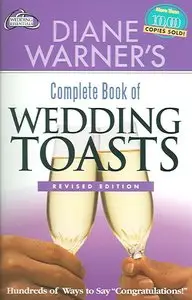 Diane Warner's Complete Book of Wedding Toasts: Hundreds of Ways to Say "Congratulations!" (Wedding Essentials) by Diane Warner
Publisher: New Page Books 2006-01-30 | 222 Pages | ISBN: 1564148157 | PDF | 1.35 MB
The best man brings down the house with a hilarious story.
The bridegroom recites a touching poem.
The father of the groom gives an eloquent toast to the newlyweds.
All of these can happen at your wedding with Diane Warner's Complete Guide to Wedding Toasts, which features hundreds of sample toasts anyone responsible for delivering heartwarming words at a wedding can use.
And this completely new edition includes:
Special toasts by members of the family and the wedding party
Entire chapters are devoted to special toasts, including toasts by the best man, the fathers of the bride and groom, the bride's sister, the bride for her mother and the bride and groom to each other.
Toasts with ethnic variations
A chapter has also been devoted to dozens of touching ethnic toasts, including a wedding toast inspired by an old Eskimo wedding prayer, a beautiful Scottish wedding toast and fifteen lovely, lilting Irish wedding toasts. This chapter also includes a list of each country's preferred toasting beverage.
Toasts inspired by the classics
This chapter is filled with unique toasts inspired by Shakespeare, Elizabeth Barrett Browning, Aristotle, George Eliot, and many others.
Humorous toasts
The book wouldn't be complete without a chapter filled with humorous toasts, including charming anecdotes, limericks and one-liners.
Diane Warner is the best-selling author of 22 books, including Diane Warner's Contemporary Guide to Wedding Etiquette, Complete Book of Wedding Toasts, , Complete Book of Wedding Showers, Complete Book of Baby Showers, Diane Warner's Big Book of Parties and How to Have a Big Wedding on a Small Budget, 4th Edition. Diane also writes for magazines, newspapers and Web sites. She is a popular speaker and radio and television guest. She has made over 100 national radio and television appearances and can be seen regularly on HGTV and The Discovery Channel. She lives in Tucson, Arizona with her author-husband, Jack.

DoWnLoAd FiLe
mirror
mirror
>>:: NO PASSWORD ::<<
>>::..::!!!NO MIRRORS!!!::..::<<