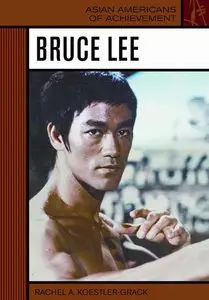 Bruce Lee (Asian Americans of Achievement) By Rachel A. Koestler-Grack
Publisher: Chelsea House Publications 2007-02-28 | 128 Pages | ISBN: 0791092747 | PDF | 2.6 MB
Born in San Francisco, Bruce Lee grew up learning how to survive on the rough-and-tumble streets of Kowloon, Hong Kong, where he became a mischievous punk and member of a street gang. When he came back to the United States, however, he was ready to become someone. Through hours of philosophical pondering and rigorous physical training, Lee built himself up to an unstoppable fighting machine. Defying traditional methods, he created a whole new system of kung fu, one that had no limitations. Lee caused a sensation when he introduced the world to his brand of martial arts, and he became a famous martial-arts actor before suddenly dying from a brain swelling at age 32. In this biography, readers will learn why, even today, more than 30 years after his untimely death, Bruce Lee remains an influential pop-culture icon, remembered as the greatest martial-arts fighter the world has ever known.

DoWnLoAd FiLe
mirror
mirror
mirror
>>:: NO PASSWORD ::<<
>>::..::!!!NO MIRRORS!!!::..::<<